Metabolomics Workbench Archive
Metabolomics Workbench Highlights
Typical metabolite concentration ranges via MetStat in NMDR (June 8, 2021)
View typical concentration ranges for a metabolite depending on species, tissue/organ, analysis method, etc. using
MetStat
. For example, what are typical concentrations of metabolites detected in human blood samples by MS or NMR? MetStat provides summary information across over 1,400 studies in NMDR. Here is a quick
tutorial
.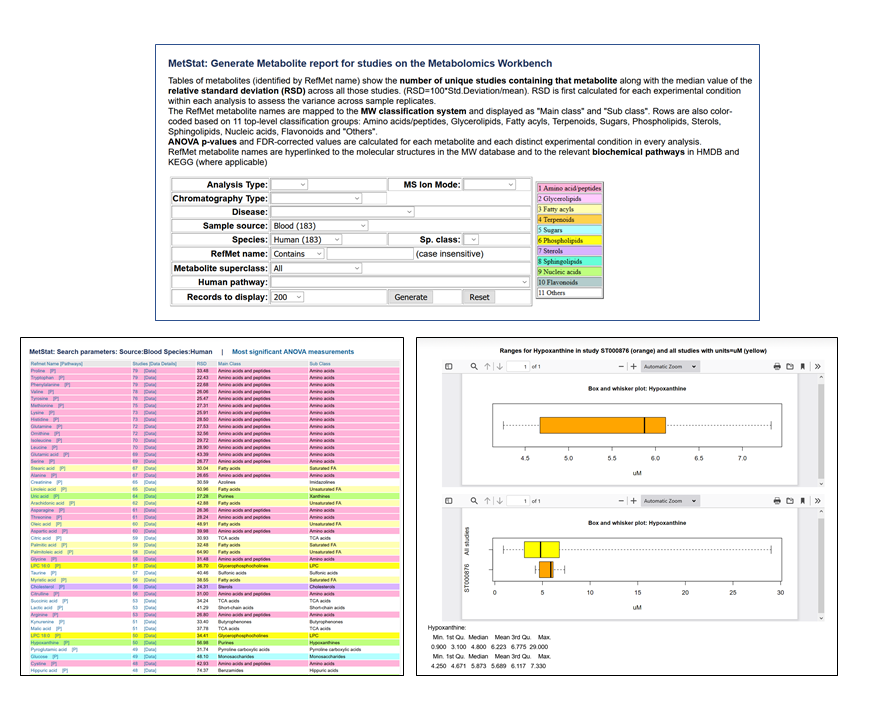 MSCAT: Software tools application (April 7, 2021)
MSCAT:
Metabolomics Software CATalog
is a dockerized application developed by the group led by Katerina Kechris and Debashis Ghosh at the University of Colorado Anschutz Medical Campus in conjunction with the Metabolomics Workbench, and as part of the NIH Common Fund Metabolomics Program. The application provides a database of metabolomics software tools and allows one to generate potential software workflows using an online interface.
Mobile phone apps for metabolomics (January 4, 2021)
*App. links are active on phones only.
November 25, 2020
MetENPWeb: Try MetENPWeb for metabolite class enrichment and species-specific KEGG pathways.
The workflow is also available as an R package from GitHub . Read more on biorxiv
RefMet publication:
Please read our recent publication 'RefMet: a reference nomenclature for metabolomics' in Nature Methods
August, 2020
Metabolomics Workbench Metabolite Database: The Metabolomics Workbench Metabolite Database contains structures and annotations of biologically relevant metabolites. As of August, 2020, the database contains about 136,000 entries, collected from public sources such as LIPID MAPS, ChEBI, HMDB, PubChem, NP Atlas , CHEMBL and KEGG. The Metabolite Database is integrated with the NMDR data repository, providing links to studies reporting each metabolite. It is also integrated with the RefMet standardized reference nomenclature, providing structural information to metabolite species where applicable.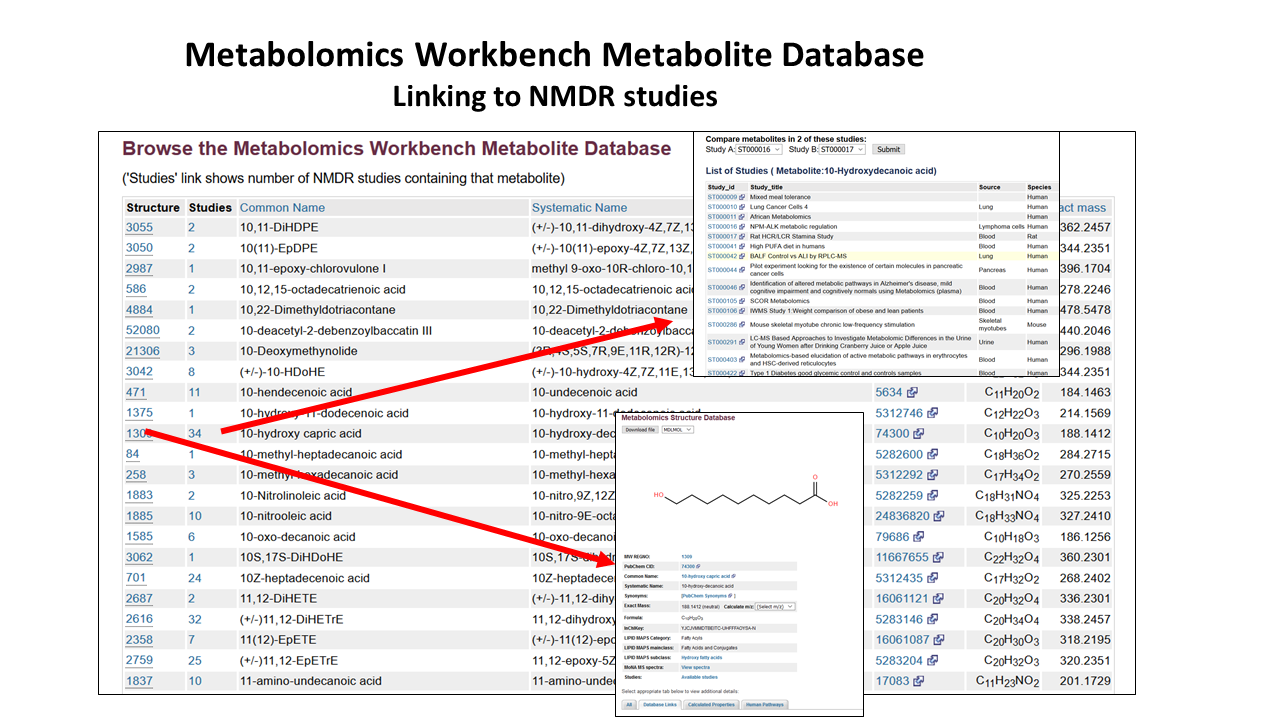 ---
LION/Web LION Enrichment analysis collaboration with NMDR: The Metabolomics Workbench is collaborating with LION/Web (http://www.lipidontology.com) to provide an efficient way to perform ontology enrichment analysis on lipidomics data contained in NMDR studies. LION/Web has incorporated a a REST service into their online application to enable users to specify an NMDR study id of interest which extracts the relevant metabolomics data/metadata from the NMDR repository where it can then be manipulated in the LION/Web enrichment analysis workflow.